2018 Instructors (more to come)
Albert Alfonso- Bodhrán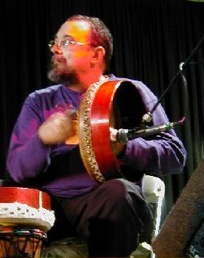 Albert Alfonso has been playing bodhrán since the 1980s, and designing and building bodhráns since the early 1990s. He has taught at Irish Arts Week in the Catskills and held workshops throughout the US and at the Royal Academy of Music in London, the Royal Scottish Academy of Music and Drama, and P.E.I. Canada. He has also been a part of the North Texas Irish Festival from its beginning in 1983. He has since served as both vice president and president of the festival's governing sponsoring organization, the Southwest Celtic Music Association (SCMA). He has been a performer at the NTIF every year, and has also played at the Milwaukee Irish Fest, the Walnut Valley Festival, and the Kerrville Folk Festival. As America's premier bodhrán maker, Albert continues to lead the way in innovation, taking his drums to even greater heights. They are unmatched for sound, playability and ease of tuning. His distinctive drums can be found on the concert stage and in sessions around the world.
Clare Adkins Cason – Fiddle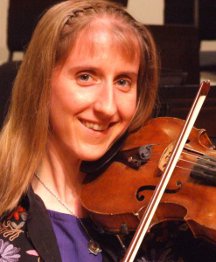 Clare Adkins Cason began violin studies at the age of 4, having been born into a family of musicians.  She attended the University of North Texas, where she was chosen as Outstanding Undergraduate in Music.  Presently she holds leadership positions in the Sherman Symphony, East Texas Symphony, and the Dallas Bach Society.  Teaching, however, has been her chief enthusiasm, and in addition to maintaining an active private studio for seventeen years, she is the author of the thirteen-volume Mountain Road series for violin and viola students. She became interested in Celtic music as a teenager through the recordings of Scottish fiddler Alasdair Fraser, and since then has had the opportunity to study with several well-known fiddle players including Matt Cranitch and John McEvoy. Clare has taught Irish fiddle at both the O'Flaherty Irish Music Retreat and the O'Flaherty Irish Music Youth Camp, and plays regularly with the Dallas-area performing group known as the Trinity Hall Session Players. She also serves as Music Director of the North Texas School of Irish Music's Allen campus, and as co-director of the O'Flaherty Irish Music Youth Camp.
Janis Deane – Tinwhistle and Uilleann Pipes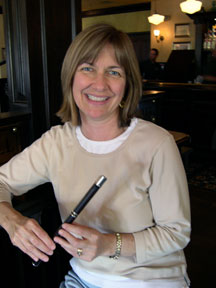 Janis Deane has been playing Irish flute/whistle for 25 years and played with the bands Mad Sweeny and Tir Na Nogh in North Carolina and Ohio respectively.  She currently performs with the Trinity Hall Session Players.  Recording credits include Morning Star, Transilience and Confluence with husband Christopher Deane on the Quiet Hall Music label, and Music from Trinity Hall with the Trinity Hall Session Players. Janis is also currently serving as president of the Traditional Irish Music Education Society.
Michelle Feldman – Fiddle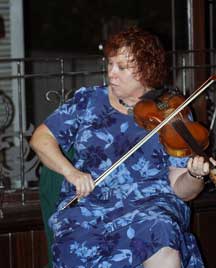 Michelle Feldman has over thirty years of experience as an Irish fiddler, including performance and teaching.  She became an Irish session fiddler while attending California State University at Sonoma, and has played for contra and ceilidh dancers and performed with Shannon, the only all-girl Celtic band in Los Angeles. Since coming to Texas, Michelle has played Celtic music for festivals, parties, and pub gigs with several Dallas area groups, and is currently performing with the eclectic/Celtic acoustic band, 5 Second Rule. She is also a composer in both traditional and folk/pop styles and has performed and recorded her tunes and songs with several bands.
Ken Fleming – Guitar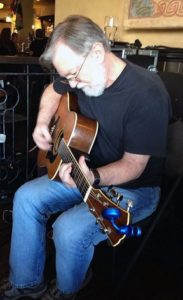 Ken has played traditional Irish music for more than 30 years on a number of instruments including guitar, bouzouki, tenor banjo, mandolin, tinwhistle, button accordion and Anglo concertina. Ken and his wife Peggy are co-founders of the Southwest Celtic Music Association and the North Texas Irish Festival of which Ken was their first president and festival director respectively. He has also been a member of Tinker's Dam, Waifs & Strays, Loose Change and is a current member of Jigsaw, the Lone Star Ceili Band and the Trinity Hall Session Players. He is the founder and former president of the Traditional Irish Music Education Society (TIMES) and the founder and current director of the O'Flaherty Irish Music Retreat and founder of the O'Flaherty Irish Music Youth Camp.
Hazel and Dave Greene – Foundations of Irish Music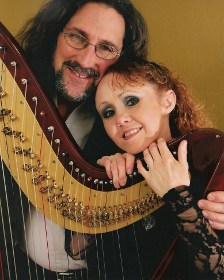 Hazel Greene holds a master's degree with a major in early childhood development and a minor in music education. She also has an associates degree in theater production.
She has enjoyed directing both adult and children's choirs, and works with her husband Dave to entertain children with their musical and storytelling gifts. They are members of The National Storytelling Network; the Tejas Storytelling Association; Youth, Educators, and Storytellers Alliance; and the Dallas Storytellers Guild. Hazel and Dave are also known as Willow and Her Giant. They love entertaining the Wee Ones!
Hazel is first generation American. Her maternal grandmother was an award-winning sean-nos ("old-style") singer who hails from Carrick On Suir in Ireland.
Dave Greene is a classically trained harpist and vocalist. He has performed with several a capella choirs, and a harp ensemble. He is a dramatist in his own right. In 2011 Dave was invited to audition for the Dallas Opera. He decided to opt out so that he could focus his efforts on Irish and folk music. He is a true Irish tenor.
Therese Honey – Intermediate Harp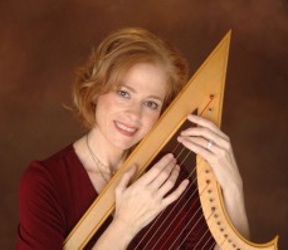 Therese Honey is a specialist in Celtic and Early harps, with a background in classical pedal harp. Therese tours throughout the United States and in 1997 she performed at the 20th Annual Carolan Festival in Keadue, Co. Roscommon, Ireland, and in 2002 performed with The Chieftains in Fort Worth, TX.
She has an active teaching studio in the Houston area and is in demand across the US as a clinician and adjudicator.
She began her harp studies with Houston Symphony harpist Beatrice Rose, with whom she studied for thirteen years. Therese has continued to further her harp skills by studying other noted harpists and at the Irish Music Summer School in Ireland, Amherst Early Music Workshop, Historical Harp Conference and the University of Houston. In 2008 Therese became a registered Suzuki Harp Teacher.
Gordon McLeod – Fiddle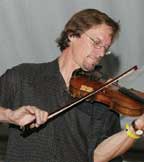 Gordon has been performing professionally on fiddle and guitar for over 30 years. Gordon founded and performs regularly with the band Beyond The Pale and also with The Aisling String Trio and in a duo with his wife, Christy. He is a regular participant in Irish music sessions in the DFW area and also performs with the Trinity Hall Session Players. He has traveled to Ireland regularly to study with many notable Irish fiddle experts and play traditional Irish music. He is the director of the O'Flaherty Irish Music Youth Camp, and is a past president of the Traditional Irish Music Education Society that organizes the camp. In addition to performing music, Gordon owns and operates a recording studio and produces recordings of all types of acoustic music.
KeyReel Raskolenko – Fiddle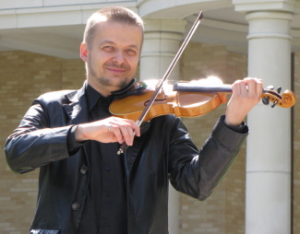 Uzbekistan-born multi-instrumentalist KeyReel Raskolenko has been described as "a world-class violinist and composer." A virtuoso player on 4-string and 5-string acoustic and electric violins, he is a classically trained musician with experience in classical chamber and orchestra music, fiddle music, improvisation, and music composition. While his fiddling is rooted in the Cape Breton style, he is equally versed in playing classical, Irish, Scottish, and American Folk music. He has taught and performed at prestigious festivals such as the Cape Breton Fiddler's Association (Canada), Celtic Colours (Canada), and Summer Music Intensives (Texas), and has also toured extensively across Europe and Asia performing classical chamber and fiddle music.
In addition to teaching and performing, KeyReel composes for many instruments, including violin, string quartet and orchestra. His works have been performed at the Great Hall of Gnesin's Academy, the Moscow House of Composers, and Texas Christian University.
Keyreel graduated from the Gnesin's Russian Academy of Music with his BM and MM degrees for violin in 2005, and is currently working on his Artist Diploma degree from Texas Christian University, where he is a student of Dr. Elisabeth Adkins. In addition to performing with several DFW area orchestras, he studies and plays jazz and occasionally performs rock concerts on his 5-string electric violin.
Tenesa Rasmussen – Basic Irish Harp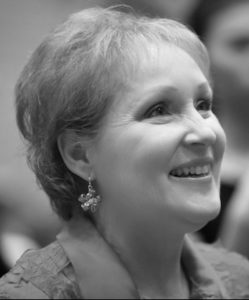 Tenesa Rasmussen holds Bachelor and Master of Music degrees from Southern Methodist University. Currently retired, she is an experienced instructor having successfully directed choirs, taught music history, music theory, and private voice in public schools, church, college and private studios for over 20 years. Rasmussen was the artistic director for the premiere touring children's chorus, Younger Generation Chorus of Plano, for 12 years. She wrote curriculum for choirs and pioneered music technology labs, as well as conducting choirs, in Dallas ISD. Tenesa began studying harp with Rebekah Passmore for personal relaxation, and has continued to play for weddings, teach privately, and perform with the Collin College Harp Ensemble. Her hobbies include knitting, teaching people about essential oils, arranging music for harp, playing piano for church, and playing with her 10 grandchildren.
Kendall Rogers – Intermediate Piano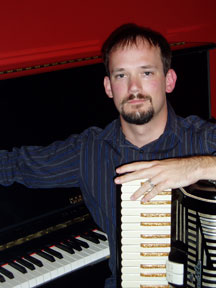 Kendall Rogers is a piano player with bodhrán, piano accordion, whistle and DADGAD guitar habits. A native Kentuckian, he grew up amid the rich folk music and dance traditions there, with folk influences from the British Isles, Denmark, and North America. He also studied classical piano, played clarinet through high school and played jazz piano in high school and college, with each new thing leaving an indelible mark on his own music. Since college, Kendall has focused on playing for folk dance and music events across the US, and has led various folk dance band and piano workshops. Currently living in Baton Rouge, Kendall enjoys playing Celtic festivals around the southern U.S. and cultivating the burgeoning contra dance community in south Louisiana.
Blaine Russell – Tinwhistle Basic Skills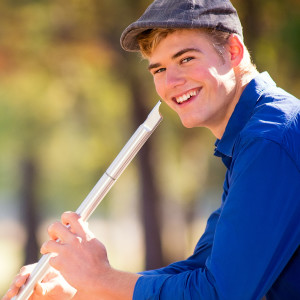 Blaine Russell is a 20 year old Oklahoman who has been playing music for thirteen years. He started with classical violin, but when his grandpa started taking his family to Irish festivals, traditional music took hold. Blaine started attending the O'Flaherty Irish Music Retreats in 2008, and has only missed one since, taking classes in both fiddle and whistle. He also attended the O'Flaherty Youth Camp from 2009 till 2014. He is the second born of seven, and therefore enjoys (and is experienced at!) working with children. He plays music with his family band, RussellClan, at festivals, churches, and private venues. Their website can be found at www.ourrussellclan.com. Blaine's other passions lie in sustainable agriculture and photography.